You are here
Demo Lampedusa Hamburg 27.11: Der Senat weigert sich weiterhin, unser Problem zu lösen – wir demonstrieren für unsere Rechte!
Sat, 11/23/2013 - 15:20 -

voice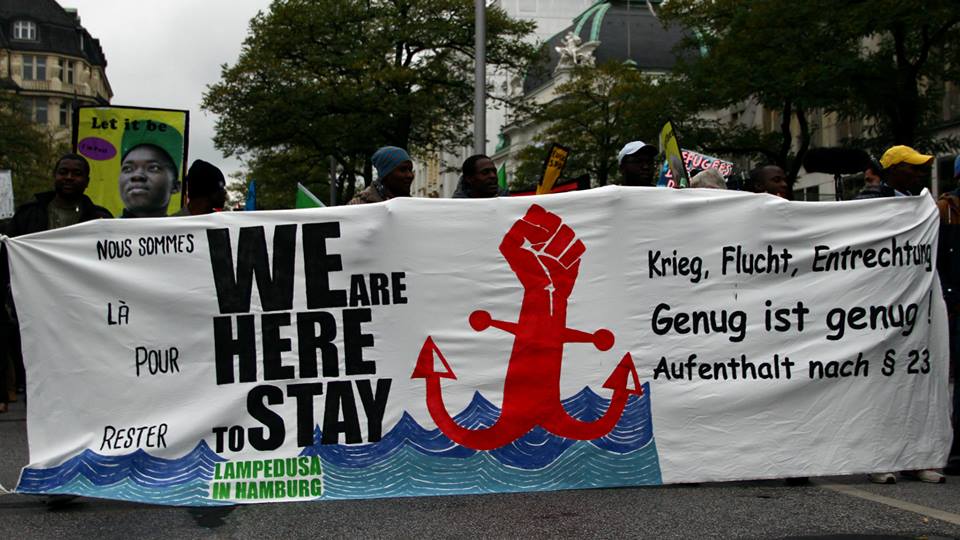 Am 27.11.2013 wird die letzte Mittwochsdemo unter dem Motto "Lampedusa in Hamburg – We are here to stay!" stattfinden. Stattdessen ruft die Gruppe "Lampedusa in Hamburg" an allen vier Advents-Samstagen zu Demonstrationen durch die Innenstadt auf.
Advents-Demonstrationen
30.11 | 07.12. | 14.12. | 21.12.
immer um 12 Uhr am Protestzelt (Steindamm 2, Hamburg-HBF)
http://lampedusa-in-hamburg.tk
Die Berichterstattung um die Gruppe "Lampedusa in Hamburg" ist seit einiger Zeit von Ereignissen an der St.Pauli-Kirche geprägt. Wir möchten darauf hinweisen, dass die Kirche nur EINE der Unterkünfte der Mitglieder der Gruppe ist und die Öffentlichkeitsarbeit der Kirche nicht die Meinung der Gruppe repräsentiert.
Es ist richtig, dass einige der in der Kirche untergebrachten Mitglieder der Gruppe Anträge auf humanitären Aufenthalt gestellt haben – der Großteil davon unfreiwillig im Rahmen der rassistischen Kontrollen, die im Oktober stattfanden. Die große Mehrheit der Gruppe schenkt dem Angebot des Hamburger Senats aber keinerlei Vertrauen! Die vom Senat vorgeschlagene "Lösung" mit der Duldung ist für uns inakzeptabel.
Wir können uns vorstellen, was dem Senat an der neuen Position von uns Geflüchteten gefällt: Von Subjekten, die selbstbewußt die ihnen zustehenden Rechte einfordern, werden wir zu harmlosen Bittstellern gemacht, die blind auf die Gutmütigkeit der Herrschenden hoffen. Kein Wort mehr davon, dass eben diese Regierung uns im kalten April auf die Straße gesetzt hatte, unser Leid und die Bedrohung unserer Leben monatelang ignorierte und uns zuletzt durch die rassistischen Kontrollen noch stärker unter Druck setzte.
Zur Erinnerung: Das Angebot besteht darin,
• individuelle Anträge auf humanitären Aufenthalt stellen zu können,
• für die Dauer des Verfahrens eine Duldung zu erhalten und
• staatlich versorgt zu werden sich bei einer Ablehnung des Antrags darauf verlassen zu können, nicht abgeschoben zu werden, bis der Widerspruch alle Gerichtsinstanzen durchlaufen hat ("Verfahrensgarantie")
•
Wir und unsere AnwältInnen sagen dazu:
• Der Senat betonte wiederholt, dass das Ergebnis der allermeisten Anträge aus der Gruppe über kurz oder lang eine Ablehnung sein wird. Zuletzt hat das Senator Neumann auf seiner Homepage offen ankündigt.
• eine Duldung ist keine Lebensperspektive, keine Garantie für irgendetwas. Wir wissen, dass in Deutschland Menschen jahrelang mit einer Duldung in Lagern leben müssen und dort wegen der Angst vor der ständig drohenden Abschiebung langsam den Verstand verlieren. Wir wollen aber endlich ankommen und Sicherheit für unsere Leben haben!
• wir wollen arbeiten und nicht von staatlichen Leistungen abhängig sein!
• Selbst wenn wir das Ende eines rechtsstaatlichen (wahrscheinlich jahrelangen) Verfahrens um unseren Aufenthalt noch hier erleben dürfen, ohne vorher abgeschoben zu werden – was kommt danach?
Das Angebot des Hamburger Senats würdigt in keiner Weise, dass wir bereits in Europa anerkannte Kriegsflüchtlinge sind, die ein NATO-Krieg – an dem sich auch Deutschland beteiligte – zur Flucht zwang. Die menschenunwürdigen Lebensbedingungen, mit denen wir und viele andere Geflüchtete in Italien konfrontiert waren, sind die Folge des Versagens des europäischen Flüchtlingsschutzes. Die Situation in Italien findet beim Senat lediglich auf dem Papier Berücksichtigung. Doch gerade vor diesem Hintergrund muss und kann Hamburg auch konkret Verantwortung übernehmen, indem es die gesetzlich möglichen Handlungsspielräume für die Erteilung einer Aufenthaltserlaubnis nutzt. Der §23 wäre eine solche politische Möglichkeit für den Senat und wir halten dementsprechend weiter an unserer Forderung nach einer kollektiven Gruppenlösung auf der Grundlage dieses Paragraphen fest.
Wo die fortdauernde unmenschliche Situation der Gruppe "Lampedusa in Hamburg" unter den Teppich gekehrt werden soll und der Senat eine Falle als Lösung einer humanitären Katastrophe verkauft, muss der Übergang zum politischen Alltagsgeschäft gestört werden. Deshalb rufen wir dazu auf, dem Senat mit langem Atem immer wieder zu zeigen, dass die einzige annehmbare Lösung das kollektive Aufenthaltsrecht für unsere Gruppe ist!
Kommt zu den Demos und zeigt eure Solidarität! Gemeinsam erkämpfen wir die Änderung der inhumanen und lebensgefährlichen Abschottungspolitik in Hamburg und Europa!
English:
The senate still refuses to solve our problem – we protest for our rights!
The last Wednesday-demonstration "Lampedusa in Hamburg – We are here to stay!" will take place on the 27.11.2013. Instead, the group "Lampedusa in Hamburg" calls for demonstrations through the city center on all four Advent-Saturdays!
Advent-demonstrations
30.11 | 07.12. | 14.12. | 21.12.
always at 12 PM at the Protest-Tent (Steindamm 2, Hamburg main station)

http://lampedusa-in-hamburg.tk
The recent news coverage of the group "Lampedusa in Hamburg" has been dominated by the events at the St. Pauli church. We want to make clear that the church is only ONE of the sleeping places for members of the group and that the PR work by the church does not represent the opinion of the group.
It is correct, that some members of the group sleeping in the church have applied for a right to stay on humanitarian reasons – most were forced to do this unwillingly by the racist controls executed in October. But the clear majority of the group places absolutely no trust in the offer made by the senate of Hamburg. The "solution" with the Duldung is unacceptable for us.
We can imagine, what the senate likes about the new position of us refugees: From subjects that self-confidently demand their vested rights we have been transformed into harmless applicants that blindly hope for the good will of the sovereign. Not another word on the fact that exactly this senate kicked us out onto the street in the cold April, that the senate ignored our suffering and the danger to our lives for months and then put even more pressure on us with the racist controls.
As a reminder: The senate's offer consisted of:
• being able to make individual applications for a residence permit on humanitarian grounds being granted a "Duldung" for the time of the procedure being cared for by the state in case the applications are rejected, to rely on not being deported until the objection has gone through all courts ("guarantee for the procedure")
We and our lawyers reply to this:
• the senate emphasised several times that the most of the applications will be rejected sooner or later. Senator Neumann publicly declared this on his homepage recently a "Duldung" is not a perspective for our life, no guarantee for anything. We know that people with a "Duldung" are forced to live in German Lagers for years and that the constant fear of being deported any moment slowly makes them go crazy. We finally want to arrive somewhere and have security for our lives!
•
• We want to work and not rely on help from the state!
•
• Even if we are allowed to stay until all legal procedures concerning our applications come to an end – what happens after that?
•
The offer made by the senate does not consider in any way that we are recognized as refugees of war in Europe already, who were forced to flee by a NATO-war in which Germany also participated. The inhuman living conditions we and many other refugees were confronted with in Italy are the consequence of the failure of the European system of protection for refugees. The situation in Italy is not considered by the senate. But especially against this backround, Hamburg can and must assume responsibility by using the given legal possibilities to grant a residence permit. The §23 is such a political possibility for the senate of Hamburg and we reconfirm our demand for a collective group-solution on the basis of this paragraph.
It is attemted to sweep the lasting inhuman situation of the group "Lampedusa in Hamburg" under the carpet and the senate presents a trap as a solution for a humanitarian catastophy. Under such circumstances, the transition back to the daily routine has to be disturbed. This is why we call upon everyone to persistantly show the senate over and over again, that the only acceptable solution is the collective residence permit for our group!
Join our demonstrations and show your solidarity! Together we can fight for a change of the inhuman and life-threatening isolationist policies in Hamburg and Europe.
French:
Le sénat continue refuser de résoudre notre problème – nous faisons des manifestations pour nos droits!
Le 27.11.2013, la dernière manifestation de mercredi aura lieu sous la devise «Lampedusa en Hambourg – Nous sommes ici pour rester!». Au lieu de cela, le groupe «Lampedusa en Hambourg» appelle aux manifestations au travers la cité aux tous les quatre samedis Avant-Noël.
Manifestations d'Avant-Noël
30.11. | 07.12. | 14.12. | 21.12.
toujours à 12 heure à la tente de protestation (Steindamm 2, Hamburg-HBF)
http://lampedusa-in-hamburg.tk
La couverture médiatique concernant le groupe «Lampedusa en Hambourg» depuis quelque temps est empreinte des événements à l'église de Sankt Pauli. Nous voulons remarquer que l'église n'est qu'un seul entre plusieurs hébergements des membres du groupe et que les relations publiques de l'église ne représentent pas l'opinion du groupe.
C'est vrai que quelques entre les membres qui dorment dans l'église ont fait des demandes de séjour humanitaire – la majorité d'eux involontairement à cause des contrôles racistes qui ont eu lieu en Octobre. Mais la grande majorité du groupe n'a aucune confiance de l'offre du sénat d'Hambourg! La «solution» proposée par le sénat avec la «Duldung» n'est pas acceptable pour nous.
Nous pouvons bien imaginer comment cela pourrait faire plaisir au sénat, la nouvelle condition ne nous les réfugiés: Au lieu d'être des sujets qui demandent fièrement leurs droits qui leur appartient – nous devenons des pétitionnaires inoffensifs, des aveugles espérant à la bonté de ceux qui règnent. Aucune mot de plus de tous les faits: que justement ce gouvernement-là nous a poussés dans les rues le froid Avril, qu'il a ignoré notre souffrance et notre misère plusieurs mois, et qu'il a récemment mis encore plus fortement la pressure à nous avec les contrôles racistes.
Pour la mémoire: L'offre consiste de:
• on peut demander séjour humanitaire individuellement on reçoit «Duldung» jusqu'à la fin de la procédure on sera soigné par l'état si la demande est rejeté, on peut faire opposition et on ne sera pas expulsé avant que tous les instances juridiques ont faire leurs décisions («garantie de procédure»)
Nous et nos avocats disons:
• Le sénat a plusieurs fois remarqué que le résultat de presque toutes nos demandes de séjour sera, tôt ou tard, un rejet. En dernier lieu, sénateur Neumann a ouvertement annoncé cela sur son page d'accueil (Homepage).
• «Duldung» n'est pas une perspective pour une vie; ça c'est une garantie pour rien. Nous savons bien qu'en Allemagne, des personnes sont forcés de vivre dans des camps pour des années avec «Duldung», et là, tout lentement, ils perdent l'esprit à cause de la peur de l'expulsion qui est toujours présent comme menace. Mais nous voulons finalement arriver et avoir sécurité pour nos vies!
• Nous voulons travailler! Nous ne voulons pas être dépendants de l'alimentation de l'état!
• Même si nous pouvons faire l'expérience de la fin d'une procédure constitutionnelle (probablement durant des années) sans être expulsés avant – quoi après?
L'offre du sénat d'Hambourg ne rend de nulle façon hommage au fait que nous sommes déjà reconnus comme réfugiés de guerre en Europe – forcés à la fuite par une guerre de l'OTAN, à laquelle l'Allemagne a pris part. Les conditions de vie inhumaines que nous et beaucoup des autres réfugiés ont subies en Italie sont le résultat de l'échec de la protection des réfugiés Européenne. Le sénat ne prend en compte la situation en Italie que formellement. Mais justement sur le fond de tout cela Hambourg doit et peut prendre ses responsabilités concrètement – en utilisant ses possibilités légales pour nous accorder un droit de séjour. Le §23 est une telle possibilité politique pour le sénat, et alors nous continuons réclamer une solution collective pour le groupe, sur la base de ce paragraphe.
Si la situation inhumaine du groupe «Lampedusa en Hambourg» continue, et si le sénat veut l'occulter, et s'il présente une embûche comme solution pour une catastrophe humanitaire – le quotidien politique doit être dérangé. Et alors nous appelons de montrer au sénat, encore et toujours, avec persévérance, que le droit de séjour collective est la seule solution acceptable pour notre groupe!
Venez aux manifestations et montrez votre solidarité! Ensemble nous gagnons le changement de la politique d'isolement qui et inhumaine et qui menace nos vies, en Hambourg et en toute l'Europe!