You are here
Today, Demo at 3pm against refugee death in camp in Plauen (Sachsen)
Sat, 02/15/2014 - 14:25 -

voice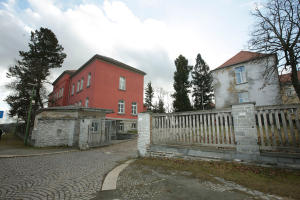 We have been informed in Saalfeld today, that yesterday, a refugee died in a Asylheim refugee camp in Plauen, because the security didn't call the ambulance even other refugees ask him for help. after 2 hours the ambulance arrived but the man was dead. Today (Saturday) there will be a picket at 15pm and a demonstration on 16pm in Plauen. If you like to us, feel free to come.
Regarding the demo, it starts at 3pm, kasernenstrasse (picket) and 4pm demonstration at theaterplatz (city). More information will be published on the thevoiceforum.org in Solidarity and Participation.
Kareem - Saalfeld
The VOICE Refugee Forum.
http://thevoiceforum.org
Please take note that no refugee from the camp made any statement in this article from German Freie Press in Plauen for Sachsen:
Info Deutsch:
Tod im Asylheim: Polizei ermittelt gegen Wachmann
In der Plauener Einrichtung ist am Freitag ein libyscher Flüchtling gestorben. Ein Wachmann soll sich geweigert haben, den Notarzt zu rufen.
http://www.freiepresse.de/LOKALES/VOGTLAND/PLAUEN/Tod-im-Asylheim-Polize...
Plauen. Nach dem Tod eines libyschen Asylbewerbers ermitteln Polizei und Staatsanwaltschaft gegen einen Sicherheitsdienst-Mitarbeiter wegen unterlassener Hilfeleistung. Dem 43-Jährigen wird vorgeworfen, keinen Rettungsdienst für den Kranken gerufen zu haben. "Wir ermitteln gegen ihn, weil er fast zwei Stunden keine Hilfe geholt hat", sagte Jan Meinel, Sprecher der Polizeidirektion Zwickau.
Der Flüchtling starb am Freitag in den Morgenstunden vor den Augen seiner schwangeren Frau. Nach Recherchen der "Freien Presse" versuchten Heimbewohner bereits in der Nacht, Hilfe vom diensthabenden Wachmann zu bekommen. Der habe sich jedoch geweigert, den Notarzt zu alarmieren. Später soll er geäußert haben, er dürfe das nicht. Diese Aussage wollte die Polizei am Freitag weder bestätigen noch dementieren. Meinel zufolge haben die Bewohner den Sicherheitsmann mehrfach aufgesucht und schließlich ein Fenster der Wachtmeisterei aufgehebelt. Erst daraufhin soll der 43-Jährige die Polizei eingeschaltet haben. Der Notarzt konnte nur noch den Tod feststellen.
Erst seit drei Wochen lebte der Libyer, ebenfalls 43 Jahre alt, mit seiner Frau und seinem zehn Monate alten Sohn in Plauen. Erkenntnisse zur Todesursache erhoffen sich die Ermittler durch eine Obduktion am Montag. Nach Informationen der "Freien Presse" soll er unter akuten Darmproblemen gelitten haben. Bereits am Dienstag kam er wegen Bauchschmerzen ins Plauener Vogtland-Klinikum, wurde allerdings am selben Abend wieder entlassen.
Unklar bleibt auch, weshalb die Bewohner nicht selbst den Rettungsdienst einschalteten, nachdem der Wachmann dies abgelehnt hatte. Die rund 290 Asylbewerber stehen unter Obhut des vogtländischen Landratsamtes. Nach dessen Angaben ist festgelegt, dass die Diensthabenden bei Notfällen unverzüglich einen Arzt rufen. Das betreffe auch den Wachschutz. Vor allem in den Abendstunden und nachts betreut ein privater Sicherheitsdienst das Heim an der Kasernenstraße am Plauener Stadtrand.
"Wir sind fassungslos", sagte Behördensprecherin Kerstin Büttner. Der von den Ermittlungen betroffene Wachmann war am Freitag nicht erreichbar. Der zuständige Niederlassungsleiter der Wachschutzfirma sagte, seine Kollegen seien mitunter verängstigt, wenn sie nachts allein im Dienst seien. In den vergangenen Wochen habe es in dem Asylbewerberheim Vorfälle gegeben, vor kurzem sei auch ein Mitarbeiter des Wachschutzes verletzt worden.
http://www.freiepresse.de/LOKALES/VOGTLAND/PLAUEN/Tod-im-Asylheim-Polize...