You are here
Syrian Refugee Family Is Unexpectedly Reunited With Their Kitten (in Jena)
Thu, 12/17/2015 - 20:34 -

voice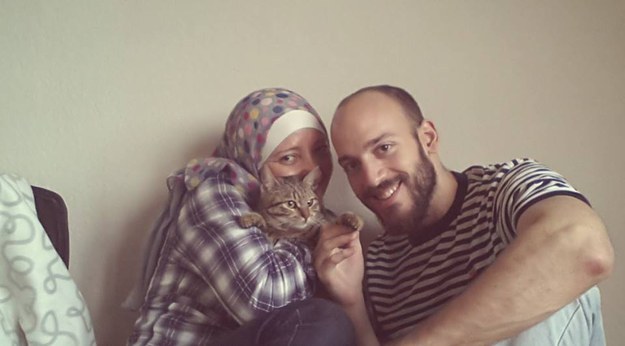 Nadia Al Kadri
After a picture of the family who brought their kitten from Syria to Greece on a life raft went viral has been unexpectedly reunited months after being separated.
Ema O'Connor
BuzzFeed News Reporter
Shortly after a picture of a Syrian refugee and the cat he brought to Greece on a life raft went viral, his kitten was quarantined by German authorities. After months of not knowing if they would be reunited, Moner Al Kadri finally found his cat Zaytouna back in his arms.
Al Kadri, 26, and his wife Nadia traveled for weeks across Europe with little rest and food, all the while carrying Zaytouna — which means Olive in Arabic, the symbol of peace and the color of her eyes — in a sling around their necks.
When they arrived at a refugee camp in Suhl, Germany, Zaytouna was confiscated and put in quarantine. Al Kadri, who does not speak German, told BuzzFeed News he did not know why or when they would get their cat back.
"We do not have kids yet," Al Kadri told BuzzFeed News over WhatsApp, a free messaging and calling service, in October. "We only have Zaytouna. We need to get her back."
Then, in mid-December, with little warning, a government worker showed up on their doorstep with an older Zaytouna.
"She told me in most cases when people bring their pets from Syria they just kill the animal," Al Kadri said, adding that it was due to risk of diseases coming in from other countries.
"I don't know why it didn't happen to her," he said, "but she is healthy and with us, and I haven't felt this happy in a long time."
Nadia Al Kadri
Due to hazardous conditions in the refugee camp, Al Kadri and his wife fled the camp and sought refuge with German immigration activists in a nearby town.
The activists helped Al Kadri and his wife find an apartment, he told BuzzFeed News, where they live for free with the financial help of other German and Austrian friends they made during their travels.
Al Kadri said they try almost every day to get the local courts to give them official refugee status and paperwork, and thereby financial and health benefits and the ability to find a job.
Al Kadri had both his feet broken in Syria. They have not fully healed and, from photographs sent to BuzzFeed News, the bone is still visible.
Local hospitals have told him he cannot receive medical attention until he is given health insurance by the government. Until then, they are living off the kindness of friends.
"We do not have enough to eat, but we have a roof over our head and we are managing fine," Al Kadri said.
Though he greatly appreciates all the help they have been offered, Al Kadri said he looks forward to regaining his independence.
"Since we arrived here so many people said [sic], 'These refugees came to take our money from our government,'" Al Kadri wrote over WhatsApp. "But they don't know or want to believe that we came here to [save] our lives and build it from the beginning with our hands and knowledge….We came here to work and live independently."
The couple said they spend much of their days researching local universities for them to enroll in once they receive their papers. Al Kadri, who was a journalist with a degree in architectural engineering in Syria, said he hopes to continue his studies in Germany.
He and Nadia are also attempting to teach themselves German, Al Kadri told BuzzFeed News, using a text book given to them by the owner of their apartment.
"We refugees are messengers," Al Kadri said of the importance of learning German. "We need to tell everyone in their language what is happening in Syria, and what they can do for the people there."
But after nearly three months of not knowing, the couple at least can take solace in the return of their now-adult cat, Zaytouna.
But after nearly three months of not knowing, the couple at least can take solace in the return of their now-adult cat, Zaytouna.
"The first thing she did was come crawl into bed with us," Al Kadri said. "She remembers her name, she knows she is with her family."
The government worker — who also brought cat food, treats, and toys for Zaytouna — told him that everyone at the pound had fallen in love with the cat while she was there, he added.
"She said, 'She is so strong, running and jumping everywhere, and she loves the water!'" Al Kadri told BuzzFeed News over the phone shortly after Zaytouna was returned. "I said, 'I know! That is my cat!'"
During her time in quarantine, Zaytouna also received her own passport.
"My cat is a European citizen!" Al Kadri said laughing.
Though the past few months have been incredibly difficult, Al Kadri said that now that he and Nadia have a place to live, friends to help them, and their cat to cuddle, they are too happy to care about the past.
"When you feel and see that everyone is equal," Al Kadri said. "When you see you have the same rights and are respected as a human being, whatever your nationality, your color, your religion…then you should be happy."
With
Foto The couple reunited with Zaytouna in Germany.
Foto Al Kadri on the beach in Greece with Zaytouna.
Foto Al Kadri in his apartment in Germany with Zaytounda
http://www.buzzfeed.com/emaoconnor/welcome-home-zaytouna#.pwz4Nl6O5
Refugee's investigation from the Camp Strike in Suhl - It is unacceptable to insult us and threaten our safety by Moner Al Kadri in Jena
http://thevoiceforum.org/node/4030
Refugee Rescued With His Cat Exposes "Dangerous And Unlivable" Conditions In German Camp
http://www.buzzfeed.com/emaoconnor/refugee-rescued-with-his-cat-exposes-...
This Syrian Family Brought Their Kitten All The Way To Greece On A Boat
http://www.buzzfeed.com/emaoconnor/olive-comes-home#.stED4gMbV
Deutsch
Eine syrische Flüchtlingsfamilie hat ihre Katze bis nach Deutschland getragen. Nachdem Zaytouna bei der Ankunft in Quarantäne gesteckt wurde, gab es nun die große Wiedervereinigung.
Der Syrer Moner Al Kadri und seine Frau Nadia sind zwei der vielen Flüchtlinge, die in diesem Jahr die gefährliche Reise über das Meer und quer durch Osteuropa auf sich genommen haben, um ein neues Leben in Deutschland zu beginnen. Doch was ihre Geschichte von der vieler anderer unterscheidet, ist ein Gefährte, den die beiden aus Syrien mit sich bringen: ihre Katze. Die beiden Studenten tragen das Tier in einem um die Schultern gebundenen Tuch bis nach Europa. Zaytouna zurückzulassen, brachten sie nicht übers Herz.
Familie und Katze werden getrennt
Nachdem das Ehepaar jedoch in Deutschland ankommt, wird Zaytouna von deutschen Behörden konfisziert und aufgrund von Gesundheitsrisiken in Quarantäne gesteckt. Al Kadri weiß von da an nicht, wo seine Katze ist und ob er sie überhaupt je wiedersehen wird. "Wir haben noch keine Kinder. Wir haben nur Zaytouna. Wir müssen sie zurückbekommen", sagt Al Kadri in einem Interview mit Buzzfeed.
Das große Glück
Obwohl es in den meisten Fällen gängige Praxis ist, nicht registrierte Tiere aus dem Ausland einzuschläfern, erhält Al Kadri vor wenigen Tagen die Nachricht, dass er seine Katze zurück bekommt. "Ich weiß nicht, weshalb es ihr passiert ist, aber sie ist gesund und bei uns, und ich war seit langem nicht mehr so glücklich", sagt Al Kadri, als er seine Katze wieder in den Armen hält.
Die beiden syrischen Studenten leben zurzeit mit der Unterstützung von Freiwilligen in Deutschland. Das Ehepaar versucht, momentan genügend Deutsch zu lernen, um sein Studium in Deutschland weiterführen zu können.
Flüchtling im Glück: Wiedervereinigung von syrischem Flüchtling mit seiner Katze | Panorama - Kölner Stadt-Anzeiger - Lesen Sie mehr auf:
http://www.ksta.de/panorama/fluechtling-mit-katze-wiedervereint-sote,151...
Italian
Le autorità tedesche li separano: il rifugiato siriano riabbraccia la sua gattina dopo 3 mesi
18 dicembre 2015 Snowballaiuto, amore, famiglia, gatta, gatti, Germania, Grecia, miracolo, profughi, rifugiati, ritrovamento, sbarcare, separazione, Siria, Zaytouna
Ricordate la storia di Zaytouna, la gatta profuga insieme al suo umano Moner Al Kadri? Ne abbiamo parlato qui http://www.gcomegatto.it/zaytouna-gatta-profuga-insieme-al-suo-umano/
Dopo essere sbarcati in Grecia, sono stati trasferiti in un campo per rifugiati a Suhl, in Germania. L'Europa rappresentava una speranza per Moner Al Kadri e la sua famiglia, invece, è proprio qui che è iniziato il loro incubo: le autorità tedesche hanno preso Zaytouna per metterla in quarantena, lontano dalla sua famiglia umana.
Al Kadri e sua moglie non si sono dati pace, la gattina è come una figlia per loro, e per questo si sono rivolti ad alcuni attivisti tedeschi che, innanzitutto, gli hanno procurato un appartamento.
Si sono, poi, attivati per avere notizie della gattina: una mattina, dopo 3 mesi di ricerche e di disperate richieste di aiuto, un ufficiale del governo ha busato alla loro porta con una piccola sorpresa: la loro Zaytouna!zaytouna 2
zaytouna 3
La micia ha riconosciuto subito i suoi umani, appena li ha visti è stata tutta fusa e coccole.
C'è da dire che la piccola Zaytouna è stata una vera miracolata: solitamente tutti gli animali provenienti dalla Siria vengono abbattuti per timore che possano trasmettere malattie ad altri animali ed alle persone. Ma, grazie agli attivisti tedeschi, Zaytouna ce l'ha fatta e i suoi umani non potrebbero essere più felici!
zaytouna 4
La loro Zaytouna è sempre la stessa adorabile e vivacissima gatta di sempre, la prima cosa che ha fatto una volta ritornata a casa, è stata tuffarsi nel letto con i suoi umani che dovevano esserle mancati proprio tanto! Finalmente, dopo mesi di peripezie, questa piccola famiglia siriana può iniziarsi a godere la vita.
zaytouna 5
banner
(Visited 217 times, 212 visits today)
- See more at: http://www.gcomegatto.it/le-autorita-tedesche-li-separano-il-rifugiato-s...