You are here
Hamburg: "Wir kommen zu euch" - Die Flüchtlings-Community braucht euch!
Wed, 08/10/2016 - 19:44 -

voice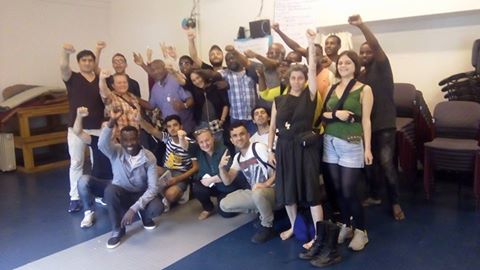 Foto vom Flüchtlings-Community-Treffen in Berlin vom 08. July
ENGLISH:
"We are are coming to you" – The refugee community needs you!
Refugee-Migrants Political Community Meeting in Hamburg on the 18th and 19th of August 2016 http://thevoiceforum.org/node/4209
***
Treffen der politischen Community der Flüchtlinge und Migrant_innen in Hamburg am 18. und 19. August 2016
Liebe Flüchtlings-Aktivist_innen in Hamburg,
"Wir kommen zu euch" - die Flüchtlingscommunity braucht euch!
Wie werden unsere Unterschiede überbrücken und unsere politischen Ressourcen zusammenführen, um unsere Kämpfe für einen unabhängigen Raum zwecks Förderung und Schutz unserer Community zu stärken.
Flüchtlingsaktivist_innen und Teilnehmer_innen des Treffen der politischen Community der Flüchtlinge und Migrant_innen in Hamburg am 18. und 19. August 2016.
Wir wollen Flüchtlinge, die in Hamburg und anderen deutschen Städten leben, informieren und darum bitten, das Treffen zu unterstützen, indem sie ihre Interesse an Teilnahme und einem Beitrag zu dem Treffen bekunden und bestätigen. Wir haben vor, das zweite Vorbereitungstreffen für unser deutschlandweites Treffen "Bewegungsaktivismus der politischen Community der Flüchtlinge und Migrant_innen" im September sowie andere Themen zu diskutieren, unter anderem den fortgesetzten und intensivierten Krieg und die tödliche Ausbeutung der Heimatländer der Flüchtlinge, was die eigentlichen Fluchtgründe der meisten Flüchtlinge sind.
Weiterhin wollen wir den anhaltenden Angriff auf die Rechte der Flüchtlinge in Europa diskutieren und die Heuchelei bloßstellen, die um Begriffe wie Menschenrechte, Freiheit und menschliche Würde stattfindet. Diese werden trotz aller zweifelhafter bis katastrophaler Kooperationen und Abkommen mit Diktaturen von Türkei bis Sudan oft als europäische Werte angepriesen.
Seit den letzten Jahren spielt ein Orchester die "Refugees Welcome"-Serenade. Sie ertönt in den Ohren vieler Menschen in diesem Land und befriedigt ihr Bedürfnis, "zu helfen". Aber dieses Orchester hat sich angesichts des Schicksals von Tausenden, für deren Abschiebung die Regierung Millionen ausgibt, geradezu stumm und taub gestellt. Sie werden in Länder deportiert, wo ihre Sicherheit und Würde nicht garantiert werden kann. Das Orchester verbindet den eifrigen "Helfer_innen" die Augen, damit sie die vorsätzliche Spaltung der Flüchtlinge durch die Regierung nicht sehen, die so die potenzielle Solidarität unter den Flüchtlingen in diesem Land schwächt und zerstreut.
Wir können es nicht zulassen, dass sie uns weiter zum Narren halten! Es ist höchste Zeit, uns gegen diese alte, aber effektive Strategie des Teile und Herrsche vereinen. Wir müssen die Initiative ergreifen und und das verweigern, was von uns erwartet wird.
Das Unrecht gegenüber Flüchtlingen in Europa hat viele Gesichter:
Über unser Zusammenkommen werden wir weiter voneinander lernen, uns gegenseitig stärken und so die verschiedenen Gesichter von Unrecht in Europa überwinden. Die meisten von uns sind Opfer von Krieg, brutaler und gieriger Ausbeutung. Einige von uns haben ihre Familien verloren, viele von uns sind von ihren Kindern, Frauen und Männern getrennt, während unzählige von uns auf dem Weg nach Europa und unter den aufmerksamen Augen von FRONTEX gestorben sind. Deswegen sind viele von uns bis heute traumatisiert. Aber statt notwendige Therapien und andere Formen von Unterstützung zu erhalten, werden wir diskriminiert, verschiedenen Formen von psychologischer Folter ausgesetzt und es wird von uns erwartet, dankbar im Namen aller Flüchtlinge das unausgesprochene Stigma als "Untermensch" anzunehmen, weil zumindest hier keine Bomben auf uns niederprasseln.
Wir dürfen angesichts dieser Herausforderungen nicht aufgeben, sondern müssen sie DURCH EINHEIT BESTEHEN!!!
Interessierte Vertreter_innen der Flüchtlings-Communities sind eingeladen und möchten ihre Teilnahme bitte bestätigen.
"Wir kommen zu euch" - Jene, die es nicht nach Hamburg schaffen, können Treffen der Flüchtlings-Community in ihren Regionen organisieren und uns informieren, wann wir vorbeikommen können.
Mehr Informationen zum Programm des Treffens, dem Ort und den Kontaktpersonen werden in diesem Gruppenforum veröffentlicht.
Das Protokoll des Treffens der Flüchtlings-Community mit Aktivist_innen von THE VOICE Refugee Forum in Jena, am Samstag, dem 30.07.2016: http://thevoiceforum.org/node/4211
Die regelmäßigen Treffen werden weitergehen.
Dringender Aufruf für Spenden
Betreff: Refugee Activism"
The VOICE e. V
Sparkasse Göttingen
Kontonummer: 127829
BLZ: 260 500 01
IBAN: DE97 2605 0001 0000 1278 29
BIC: NOLADE21GOE