You are here
Stellungnahme von The VOICE Refugee Forum Bavaria: In Solidarität mit dem Protestmarsch von München nach Nürnberg 2016
Sun, 10/09/2016 - 13:26 -

voice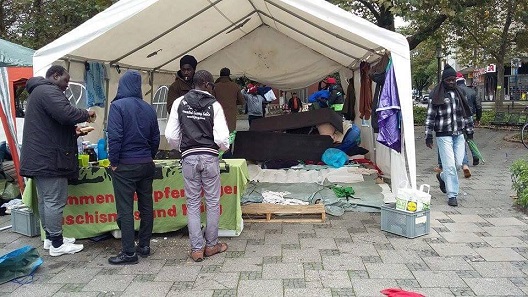 Presseerklärung von The VOICE Refugee Forum
http://thevoiceforum.org/node/4254
In Solidarität mit dem Protestmarsch von München nach Nürnberg 2016
AktivistInnen von The VOICE Refugee Forum (Network) schließen sich am 11.Oktober in Landhut anStellungnahme von The VOICE Refugee Forum Bavaria:
####
In Solidarität mit dem "Refugee Struggle for Freedom"-Protestmarsch von München nach Nürnberg
Wir verlangen ein bedingungsloses Residenzrecht – Stopp aller Abschiebungen – Für Bewegungsfreiheit!!
Der Marsch beginnt am 8.Oktober in München und endet am 21. Oktober in Nürnberg
Ziel des Protestmarsches ist es, gegen die Verzögerungen und die Verweigerung des Schutzes durch das Bundesamt für Migration und Flüchtlinge in Nürnberg zu mobilisieren und zu organisieren.
Die Gruppe "Refugee Struggle for Freedom" wird weiterkämpfen, bis das Ziel erreicht ist!
Unsere Gemeinschaft politisch aktiver Flüchtlinge in Bayern stehen in Solidartät mit der Gruppe "Refugee struggle for freedom" und mit dem Protestmarsch nach Nürnberg, der am 8. Oktober in München beginnt.
Wir, The VOICE Refugee Forum Bayern, werden dem Marsch unsere volle Unterstützung zukommen lassen. Wir Flüchtlinge hier kämpfen für unsere Rechte, bestärken uns gegenseitig und gemeinsam werden wir unsere Würde verteidigen. Auch wir sind Menschen und verdienen Respekt und Würde wie jeder andere Mensch auch. Indem wir zusammenkommen, fahren wir damit fort, voneinander zu lernen und durch kontinuierliche Selbstermächtigung unsere Stärke zu entwickeln, um die unterschiedlichen Gesichter der Ungerechtigkeit in Europa zu überwinden.
Die meisten von uns sind Opfer von Krieg, Gewalt und gieriger Ausbeutung. Einige von uns haben ihre Familien verloren und viele von uns sind von ihren Kindern, Frauen und Männern getrennt, während unzählige von uns auf der Reise nach Europa unter den wachsamen Augen von FRONTEX gestorben sind. In Folge davon sind viele uns heute traumatisiert.
Doch statt dass man uns die notwendige therapeutische und anderweitige Unterstützung gibt, werden wir diskriminiert, verschiedenen Formen von psychologischer und physischer Folter unterzogen und man erwartet von uns, im Namen der Flüchtlinge unser unausgesprochenes Label als "Untermenschen" zu akzeptieren. Vielleicht weil es hier keine Bomben mehr gibt, die auf uns herabregnen. Wir sind hier, weil die westlichen Führer und deren Länder unsere Länder zerstört haben. Sie machen aus unseren Ländern Kolonien und erbeuteten unsere Freiheit und unsere Lebensressourcen. Wir sind hier wegen dem Krieg in unseren Ländern und weil unsere Leben und unsere Häuser zerstört worden sind. Wir sind hier, weil unsere politischen und ökonomischen Systeme korrupt sind und vom Westen unterstützt werden.
Unser Ziel ist es, uns in Selbstorganisationen von Flüchtlingen und ihrer Gemeinschaften gegen die Apartheid in den Lagern und Isolationslagern zu organisieren und die politischen Netzwerke und Kämpfe in den Lagern zu stärken. Die Selbstbestimmung der Flüchtlinge für die Selbstbefreiung aus dem institutionalisierten Rassismus und der Diskriminierung ist klar definiert. Wir werden uns vereinigen und einen Block bilden gegen suizidale Handlungen und Traumata in den Isolationslagern. Wir verlangen Solidarität im Protest gegen die kollektive Bestrafung durch die rassistische Verfolgung von Flüchtlingen in Deutschland. Wir verlangen die Abschaffung der Residenzpflicht und der Segregation von Flüchtlingen in Lager und Abschiebegefängnisse. Wir stehen für Bewegungsfreiheit für alle, Abschiebestopp und das Ende aller diskriminierenden Gesetze gegenüber Flüchtlingen. Wir sind vereint gegen jede Form von kolonialem Unrecht und sozialer Ausgrenzung von Flüchtlingen und Menschen ohne Rechte in Deutschland.
Wir sind in Solidarität mit dem "Refugee struggle for freedom"
, denn ihre Forderungen sind auch unsere. Wir rufen alle AktivistInnen dazu auf, sich auf die Förderung der Vernetzung und Einheit zwischen den Flüchtlingsgemeinschaften zu konzentrieren und dafür zu mobilisieren, unsere eigenen Stimmen gebührend zu vertreten. (https://www.facebook.com/refugeestruggle/ and http://refugeestruggle.org)
Wir verlangen bedingungsloses Residenzrecht!
Stopp aller Abschiebungen! Für Bewegungsfreiheit!
Wir freuen uns darauf, euch alle in unseren Kämpfen wiederzutreffen!
On the Move! Power Up, in solidarity!!
The VOICE Refugee Forum Bavaria, für die The refugee-Migrant Political Community.
Für Mehr Information and Press Kontakt: : Muhammud Ali Awan, Tel.: 015218222548
Email. thevoicerefugeeforum@riseup.net. http://thevoiceforum.org
English:
We demand for unconditional Residence - Stop all deportations - For Freedom of Movement!!!March starts on 8th October in Munich to end on 21st October in Nuremberg
Statement of The VOICE Refugee Forum Bavaria: In solidarity with protest march from Munich to Nuremberg in 2016
Foto: http://thevoiceforum.org/node/4248