You are here
Presseerklärung von The VOICE Refugee Forum: In Solidarität mit dem Protestmarsch von München nach Nürnberg 2016
Tue, 10/11/2016 - 13:05 -

voice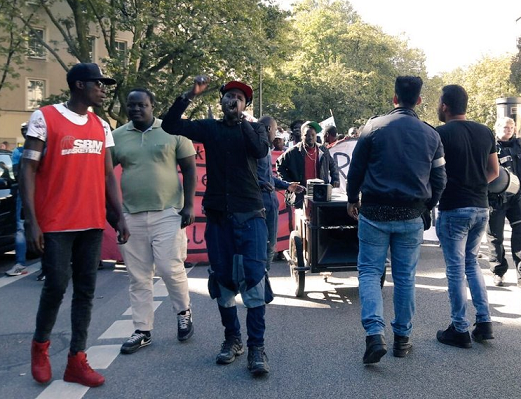 (https://www.facebook.com/refugeestruggle/ and http://refugeestruggle.org)
Presseerklärung von The VOICE Refugee Forum
In Solidarität mit dem Protestmarsch von München nach Nürnberg 2016:
AktivistInnen von The VOICE Refugee Forum (Network) schließen sich am 11.Oktober in Landhut an
Am 8. Oktober hat in München der Protestmarsch der Gruppe "Refugee Struggle for Freedom" begonnen, der am 21. Oktober in Nürnberg enden wird.
Ziel des Protestmarsches ist es, gegen die Verzögerungen und die Verweigerung des Schutzes durch das Bundesamt für Migration und Flüchtlinge in Nürnberg zu mobilisieren und zu organisieren.
The VOICE Refugee Forum, das jüngst gegründete VOICE Refugee Forum Bayern und die Gemeinschaft politischer FlüchtlingsaktivistInnen in Bayern unterstützen den Protestmarsch solidarisch. Wir werden dem Marsch unsere volle Unterstützung zukommen lassen. Wir Flüchtlinge hier kämpfen für unsere Rechte, bestärken uns gegenseitig und gemeinsam werden wir unsere Würde verteidigen. Auch wir sind Menschen und verdienen Respekt und Würde wie jeder andere Mensch auch. Indem wir zusammenkommen, fahren wir damit fort, voneinander zu lernen und durch kontinuierliche Selbstermächtigung unsere Stärke zu entwickeln, um die unterschiedlichen Gesichter der Ungerechtigkeit in Europa zu überwinden.
Unser Ziel ist es, uns in Selbstorganisationen von Flüchtlingen und ihrer Gemeinschaften gegen die Apartheid in den Lagern und Isolationslagern zu organisieren, die zu Suizid und Traumata führt, und die politischen Netzwerke und Kämpfe in den Lagern zu stärken. Wir verlangen Solidarität im Protest gegen die kollektive Bestrafung durch die rassistische Verfolgung von Flüchtlingen in Deutschland. Wir verlangen die Abschaffung der Residenzpflicht und der Segregation von Flüchtlingen in Lager und Abschiebegefängnisse. Wir stehen für Bewegungsfreiheit für alle, Abschiebestopp und das Ende aller diskriminierenden Gesetze gegenüber Flüchtlingen. Wir sind vereint gegen jede Form von kolonialem Unrecht und sozialer Ausgrenzung von Flüchtlingen und Menschen ohne Rechte in Deutschland.
Wir sind in Solidarität mit dem "Refugee struggle for freedom", denn ihre Forderungen sind auch unsere und der der Flüchtlingsprotest ist unser Kampf und der aller Flüchtlinge.
15 Flüchtlinge, die sich in The VOICE Refugee Forum Bayern organisiert haben, aus Dingolfing, Passau, Moosburg, Gottfriedingerschwaige, Loiching und Landau sind von Beginn an am Protestmarsch beteiligt. FlüchtlingsaktivistInnen von The VOICE Refugee Forum und von der Politschen Gemeinschaft der Flüchtlinge aus Thüringen, Kiel, Baden-Württemberg, Hamburg, Hannover, Berlin sowie Flüchtlinge aus anderen bayerischen Städten werden sich dem Protest in Landshut, Regensburg und Nürnberg anschließen.
Huete, 11.00 Uhr Oktober 2016 findet in Landshut eine Demonstration zum Flüchtlingslager in der Niedermayerstraße statt.
Beginn: 17:30 Uhr, Martinskirche (Stadtzentrum)
Wir rufen alle AktivistInnen dazu auf, sich auf die Förderung der Vernetzung und Einheit zwischen den Flüchtlingsgemeinschaften zu konzentrieren und dafür zu mobilisieren, dass unsere eigenen Stimmen gebührend vertreten werden!
Wir verlangen bedingungsloses Residenzrecht! Stopp aller Abschiebungen! Für Bewegungsfreiheit!
Stellungnahme von The VOICE Refugee Forum Bavaria: In Solidarität mit dem Protestmarsch # München nach Nürnberg 2016 http://thevoiceforum.org/node/4249
Erklärung: Schließen wir uns zusammen- Der FLÜCHTLING ist die Bewegung und unsere Gemeinschaft ist unsere Verteidigung in Europa http://thevoiceforum.org/node/4252
The VOICE Refugee Forum Bavaria, für die The refugee-Migrant Political Community.
Für Mehr Information and Press Kontakt: : Muhammud Ali Awan, Tel.: 015218222548
Email. thevoicerefugeeforum@riseup.net. http://thevoiceforum.org