You are here
Start to donate now! 25 years of The VOICE Refugee Forum – A thousand times 25!!!!
Thu, 09/26/2019 - 18:36 -

voice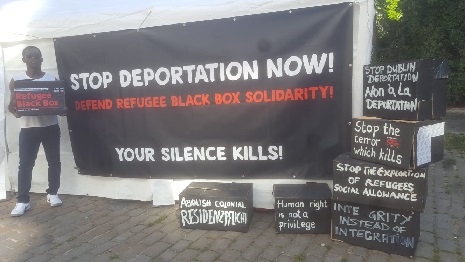 https://www.facebook.com/RefugeeBlackBox/
25 years of The VOICE Refugee Forum – A thousand times 25!!!!
25 year anniversary of The VOICE Refugee Forum call for financial autonomy – no applications!!! All donations, smaller or higher will be highly appreciated.
From the 3rd to 6th October 2019 we are hosting the first nationwide network preparation meeting for the agenda of 25th-anniversary events of The VOICE Refugee Forum in Jena. For this meeting we are planning to prepare decentralized activities in different cities in Germany starting from October, 3rd till December 2019. This will be powered by the "RefugeeBlackBox Solidarity" initiatives.
The VOICE Refugee Forum will be celebrating 25years of self-organized, self-empowered and tireless refugee activism in Germany. Our consistent message of justice, freedom of movement, solidarity and breaking the deportation chain in Germany has been an inspiration to many other refugee groups for the last two decades. We want to celebrate our continuity to further inspire and strengthen the refugee community organizing for the years ahead.
We will be focusing on refugee community networking and solidarity with different activities in Jena and in other cities to empower the continuity of our struggles with decentralized activities in different cities in Germany.
We are appealing for donations for these events beginning with the preparation meetings to ensure our continued financial autonomy. We don't make financial applications to state institutions and intergovernmental bodies but we ask for a contribution from everybody who is part of the movement or a sympathizer: With your solidarity donation you help sustain the power of and the unity in our movement.
"25 years of our lives" of unwavering commitment to breaking the culture of deportation in Germany.
Join and support by making a donation to make this memorable event a success!
*RefugeeBlackBox - Solidarity (Initiated in 2017)
*Deportation is the last ring of the slavery chain (2014)
*Unite Against Deportation and Social Exclusion (2000)
Defend the RefugeeBlackBox solidarity!
Each Deportation stop pulls down the mask that covers the human face!
The fight against deportation has always been in the center of The VOICE's political activism. Fighting deportation means fighting against nationalism, white supremacy and colonial racist injustice!
The VOICE Refugee Forum is a pioneering self-organized refugee group in Germany. Support us to power on for the next 25 years. Join us to celebrate 25 years of self-organized autonomous refugee struggle!
Donate 1000 X 25€ for 25 year anniversary of The VOICE Refugee Forum!
Förderverein The VOICE e.V.
Sparkasse Göttingen
Kontonummer: 127829
BLZ: 260 500 01
IBAN: DE97 2605 0001 0000 1278 29
BIC: NOLADE21GOE
Stichwort: 25yrs
There will be topics
- Presentation and Review, reflection and testimony on the history of The VOICE - and the refugee struggles
- Autonomy and decentralization of the RefugeeBlackBox Installations
- Discussion, workshops, films, installations
- Exchange and documentation of the present situation of refugees
- Parade, gyration performance with rap and hip-hop, RefugeeBlackBox installation
- Live music and party with Marap (Hamburg) and Jamal Kamano aka. Konta (Berlin)
Links:
- Invitation to the preparatory events for the 25th anniversary of The VOICE Refugee Forum.
http://thevoiceforum.org/node/4654
- First invitation to the 25th anniversary of The VOICE Refugee Forum
http://thevoiceforum.org/node/4649
About our political and financial autonomy
The VOICE Refugee Forum is calling for the anniversary of 25 years of resistance and struggles against German racist laws by which the persecution of refugees is legitimized and socially normalized.
Deportation is proof of the accepted existence of state crime, which we identify as our main target to resist.
Solidarity, unity and refugee community are the main demands we are focusing as part of this event: These keywords are the result of 25 years of activities against isolation and deportation practices that are the two hands of the elimination culture. Deportation is the continuity of the slavery business.
Financial independence from the government guarantees the continuity of a self-empowered movement.
The fake alternative applying system is no alternative as it does more to undermine our self-determination. It devalues our information, disregards our human dignity and imposes a control mechanism just by keeping us in a race, taking our energy, wasting our time. We ignore this usual and formal way which controverts the demand for independence.
Capitalism has made us blind to the colonial injustice of European racism. We call for our political and financial autonomy in our fight to develop and empower our demands for the next generations.
It is possible if all contribute to it. 25,000 € are a conservative estimate of the cost of preparing, mobility and implementing the 4 months events till December in Jena and in other cities and towns like in Thueringen, Sachsen-Anhalt and Brandenburg, Berlin, Hamburg and Wuppertal. We expect more refugee cities, towns and villages to join the RBB Networks.
For an estimated number of 1000 participants from the different refugee camps in cities, towns and villages in the nation-wide events with refugees and non-refugees activists, these costs would include:
- Nationwide mobilization, preparatory and evaluation meetings
- Traveling costs for refugees and unemployed activists in different locations
- Printing and documentation materials
- Foto exhibitions of RBB installations, workshops, performances, parades, testimonies, portraits
- Generators and warm Tents for meetings and performances.
- Developing the RBB "Gyration" The Political Culture – Performance with music and theater for an eventual tour in Germany.
- Forms of actions and highlights for RefugeeBlackBox installations will be developed for public events.
We want to thank you all and most especially The Caravan for the rights of refugees and migrants, the Break Deportation and Break Isolation Network in Thuringen, including all the individual donors that have made the political continuity of our engagement possible. Making Jena the satellite of the refugee struggle in Germany is the task that must be done.
In solidarity, we remain.
The VOICE Refugee Refugee Forum, on behalf of the refugeeblackbox - Solidarity Campaign