You are here
Jetzt spenden und helfen | "25 Jahre VOICE Refugee Forum" - Tausendmal 25 !!!!
Sun, 09/29/2019 - 14:14 -

voice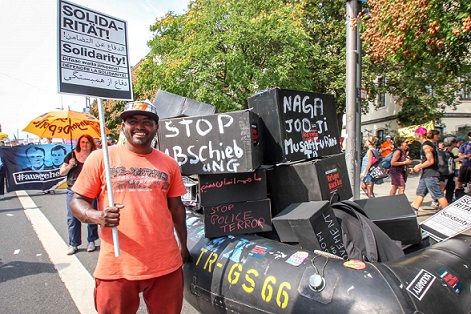 "25 Jahre VOICE Refugee Forum" - Tausendmal 25 !!!!
25-jähriges Jubiläum des VOICE Refugee Forums – Aufruf zur finanziellen Autonomie - keine Bewerbungen !!! Alle kleineren oder höheren Spenden werden sehr geschätzt.
Vom 3. bis 6. Oktober 2019 veranstalten wir das erste bundesweite Netzwerkvorbereitungstreffen für die Agenda von Veranstaltungen zum 25. Jubiläum des VOICE Refugee Forums in Jena. Bei diesem Treffen wollen wir die geplanten dezentralen Aktionen vom 3. Oktober bis zum Dezember 2019 in verschiedenen Städten in Deutschland vorbereiten. The VOICE wird von den "RefugeeBlackBox Solidarity" -Initiativen unterstützt.
Das VOICE Refugee Forum feiert 25 Jahre selbstorganisierten, selbstbestimmten und unermüdlichen Flüchtlingsaktivismus in Deutschland. Unsere konsequente Botschaft von Gerechtigkeit, Bewegungsfreiheit, Solidarität und dem Kampf gegen die Kultur der Abschiebung in Deutschland hat viele andere Flüchtlingsgruppen in den letzten zwei Jahrzehnten inspiriert. Wir möchten die Kontinuität dieser Kämpfe gemeinsam feiern, um die Organisation der Communitys für die kommenden Jahre weiter zu inspirieren und zu stärken.
Wir werden uns auf die Vernetzung von Geflüchteten-Community und die Solidarität mit verschiedenen Aktivitäten in Jena und anderen Städten konzentrieren, um die Kontinuität unserer Kämpfe mit dezentralen Aktionen in verschiedenen Städten in Deutschland zu stärken.
Wir bitten um Spenden für diese Veranstaltungen, um unsere finanzielle Autonomie zu gewährleisten. Wir stellen keine Finanzanträge an staatliche Institutionen und zwischenstaatliche Organisationen, aber wir bitten um einen Beitrag von allen, die Teil der Bewegung sind oder mit ihr sympathisieren: Mit deiner Soli-Spende trägst du dazu bei, die Energie und die Einigkeit in unserer Bewegung aufrechtzuerhalten.
"25 Jahre unseres Lebens" unerschütterlicher Einsatz, um die Kultur der Abschiebung in Deutschland zu durchbrechen. Mach mit und unterstütze uns mit einer Spende, damit dieses unvergessliche Ereignis ein Erfolg wird!
* RefugeeBlackBox - Solidarität (Initiiert in 2017)
* Abschiebung ist der letzte Ring einer Kette der Sklaverei (2014)
* Vereinigung gegen Abschiebung und soziale Ausgrenzung (2000)
Verteidige die RefugeeBlackBox-Solidarität!
Jede verhinderte Abschiebung reißt die Maske herunter, die das menschliche Gesicht verbirgt!
Der Kampf gegen Abschiebung stand schon immer im Mittelpunkt des politischen Engagements von The VOICE. Die Abschiebung zu bekämpfen bedeutet, gegen Nationalismus, weiße Vormachtstellung und koloniale rassistische Ungerechtigkeit zu kämpfen!
Das VOICE Refugee Forum ist eine wegweisende selbstorganisierte Flüchtlingsgruppe in Deutschland. Unterstütze uns, damit wir für die nächsten 25 Jahre weiter machen können. Feier mit uns 25 Jahre selbstorganisierten autonomen Flüchtlingskampf!
Spende 1000 x 25 € für das 25-jährige Jubiläum des VOICE Refugee Forums!
Förderverein The VOICE e.V.
Sparkasse Göttingen
Kontonummer: 127829
BLZ: 260 500 01
IBAN: DE97 2605 0001 0000 1278 29
BIC: NOLADE21GOE
Stichwort: 25 Jahre
Links:
Es wird geben:
- Präsentationen und Rückblicke, Reflexionen und Zeugenberichte über die Geschichte der Flüchtlingskämpfe von The VOICE
- Autonomie und Dezentralisierung der RefugeeBlackBox-Installationen
- Diskussionen, Workshops, Filme, Installationen
- Austausch und Dokumentationen zur aktuellen Situation von Flüchtlingen
- Parade, Gyration-Performance mit Rap, Hip-Hop und einer RefugeeBlackBox-Installation
- Live-Musik und Party mit Marap (Hamburg) und Jamal Kamano aka. Konta (Berlin)
Einladung zu den Vorbereitungsveranstaltungen zum 25-jährigen Jubiläum des VOICE Refugee Forums.
http://thevoiceforum.org/node/4654
- Erste Einladung zum 25-jährigen Jubiläum des VOICE Refugee Forums
http://thevoiceforum.org/node/4649
Über unsere politische und finanzielle Autonomie
Das VOICE Refugee Forum ruft zum 25-jährigen Jubiläum des Widerstands und der Kämpfe gegen die deutschen rassistischen Gesetze auf, mit denen die Verfolgung von Flüchtlingen legitimiert und sozial normalisiert wird.
Die Abschiebung ist ein Beweis für das akzeptierte Bestehen staatlicher Kriminalität, die wir als unser Hauptziel für den Widerstand identifizieren.
Solidarität, Einheit und Community sind die Hauptforderungen, auf die wir uns im Rahmen dieser Veranstaltung konzentrieren: Diese Schlüsselwörter sind das Ergebnis von 25 Jahren Aktivitäten gegen Isolations- und Abschiebungspraktiken. Isolation und Abschiebung sind die beiden Hände der Eliminierungskultur. Abschiebung ist die Fortsetzung des Sklavenhandels.
Die finanzielle Unabhängigkeit von der Regierung garantiert die Kontinuität einer selbstbestimmten Bewegung.
Das falsche alternative Antragssystem ist keine Alternative, da es mehr dazu beiträgt, unsere Selbstbestimmung zu untergraben. Es wertet unsere Informationen ab, missachtet unsere Menschenwürde und führt einen Kontrollmechanismus ein, indem es uns in einem Rennen hält, unsere Energie aufnimmt und unsere Zeit verschwendet. Wir ignorieren diesen üblichen und formalen Weg, der der Forderung nach Unabhängigkeit widerspricht.
Der Kapitalismus hat uns blind gemacht für die koloniale Ungerechtigkeit des europäischen Rassismus. Wir fordern unsere politische und finanzielle Autonomie in unserem Kampf, um unsere Forderungen für die nächsten Generationen zu entwickeln und zu stärken.
Es ist möglich, wenn alle dazu beitragen. 25.000 € sind eine vorsichtige Schätzung der Kosten für die Vorbereitung, Mobilität und Durchführung der 4-monatigen Veranstaltungen bis Dezember in Jena und in anderen Städten wie Thüringen, Sachsen-Anhalt und Brandenburg, Berlin, Hamburg und Wuppertal. Wir gehen davon aus, dass mehr Städte und Dörfer, in denen Flüchtlinge leben, dem RBB-Netzwerk beitreten.
Bei einer geschätzten Anzahl von 1000 Teilnehmern aus den verschiedenen Flüchtlingslagern in Städten und Dörfern an den landesweiten Veranstaltungen mit Aktivisten für Flüchtlinge und Nichtflüchtlinge würden diese Kosten Folgendes umfassen:
- Reisekosten für Flüchtlinge und arbeitslose Aktivisten an verschiedenen Orten
- Druck- und Dokumentationsmaterialien
- Fotoausstellungen von RBB-Installationen, Workshops, Performances, Paraden, Zeugnissen, Porträts
- Generatoren und warme Zelte für Meetings und Performances.
- Entwicklung der RBB "Gyration" Die politische Kultur - Performance mit Musik und Theater für eine spätere Deutschlandtournee.
- Für öffentliche Veranstaltungen werden Aktionsformen und Highlights für RefugeeBlackBox-Installationen entwickelt.
Wir möchten uns bei allen bedanken, die die politische Kontinuität unseres Engagements ermöglicht haben, ganz besonders bei der Karawane für die Rechte von Flüchtlingen und Migranten, dem Break Deportation und Break Isolation Network in Thüringen, einschließlich aller Einzelspender*innen. Gemeinsam machen wir Jena zum Satelliten des Flüchtlingskampfes in Deutschland.
In Solidarität
Das VOICE Refugee Forum im Auftrag der RefugeeBlackBox - Solidarity Campaign"