You are here
Declaration by Schwäbisch Gmünd Refugee Activists in Baden Württemberg
Sat, 03/07/2015 - 12:33 -

voice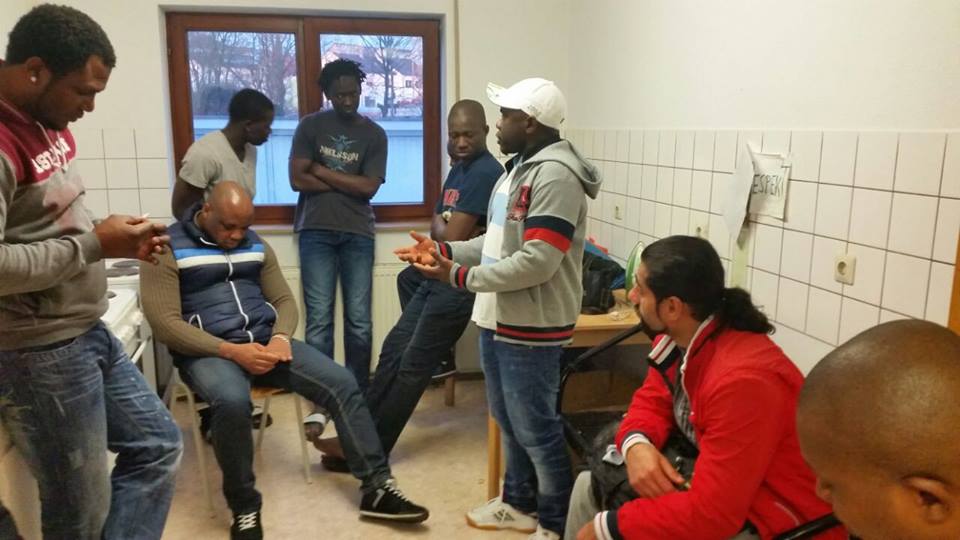 Refugee Tour - Solidarity Call for Civil Disobedience from Refugee Initiative Schwäbisch Gmünd
Wuppertal 23.03., Hamburg und Erfurt 24.03., Kiel 25.03., Bremen 26.03., Berlin 27.03.15,. Konstanz 01.04., Schwäbisch Gmd 06.04.15, Lutherstadt Wittenberg 16.04.2015 http://thevoiceforum.org/node/3886
PERSECUTED REFUGEE ACTIVIST ON THE MOVE !
The mobilisation of Refugee to stand up for the rights continues in different Refugee Isolation lagers.
Visit the information Tent at Ellwangen Marktplatz on Monday 09.03.15 from 11 to 18 Hours.
Observe the development and incase ... Inform other Refugees to join the ongoing plan B. No compromise to Apartheid Residenzplicht !!!
We demand the abolition of all racist and discriminating Laws.
Declaration by the refugee activists from Schwäbisch Gmünd in Baden-Württemberg
Leke Aremu, Farook Khan, Raphael Paul, Frankline Ndam, James Ogoloma
and Solidarity call for Comrade Usman G, imprisoned because of "Residenzpflicht" Apartheid Law in Bayern
With our protest action of 2nd March, we reemphasized our position of NO COMPROMISE with a racist State in neither payment of fines nor report ourselves in the Ellwangen prison as a penalty for excising our rights to freedom of Movement.
Nevertheless the fears inflicted on other refugees to reduce their active participation, the nationwide solidarity and presence of Activist from Hamburg, Thüringen, Berlin and other parts of Baden Württemberg had powered our determination to denounce Apartheid in Germany and call to order the Ostalb district Authorities.
The powerful speeches that echoed during the Protest served a sound reminder of the German past with our reaffirmation of a "Never again" not even with these racist Officials. We resound the words from our comrades;
• There is a problem here in Schwabisch Gmünd!
• "The oppressors will have No where to hide!
• We know you and everything about you!
• Enough with this habit of feeding with the ignorance of the people!
• We will keep you under constant control and observe all your evil acts!
• Refugees are rising up every where to take back power!
• We take back our dignity and our presence makes all the difference!
• Enough is enough of your propaganda!
We demand the dropping of all pending charges of Residenzpflicht with immediate effect
This is a great challenge that confronts the German society right now
We are more than the executors of inJustice!
The loud confrontation that crowned the provocative presence of the so called District Commissioner for Refugees affairs is just the beginning of our mission to expose every accomplice to refugee persecution. Mr Bertz has been a Terror to Refugee activist and through his Jonalist attache from the Conservative Remszeitung and Refugee Spy "Mr Bernd Sattler" they have continued to excalate the situation, split refugees to justify their extortion and propaganda. Mr Sattler in the disguise of representing "Bürgerinitiative and Fremdfeindlichket " has always been the district instrument to tarnish the image of Refugee activist and is responsible for the slavery job opportunities like the Bahnhof carriage deal with Refugees.
The second deadline for the other Refugee Activist to report at the Ellwangen Prison will expire by monday 9th March and we call on you to monitor the development that may follow.
We maintain our Stand, Niether will I pay a dime for my freedom of Movement nor report myself in Prison just be cause I excised my rights to freedom of movement.
• Civil disobedience against restriction of movement is a call for freedom and liberty!
• Civil disobedience is a grassroots media of those oppressed by the threats of state repression!
• Civil disobedience act by those under the state oppression is legal for public interest!
Our protest challenges the Politicians and State officials and also the Society whose silence and ignorance had in one way or the other empowered the existence of selective and discriminative laws for Refugees in Germany
• We demand the immediate and complete abolition of Apartheid Residenzpflicht and other racist laws
• We protest every form of threats and imprisonment or intimidation of the refugee activists on civil disobedience.
• We demand immediate release of Comrade Usman G. who is in prison for Apartheid Residenzplicht
• We demand for a life decided by our own in freedom and human dignity
Please join us in Solidarity to observe the court process of Refugee Activist Usman G. who is imprisoned for civil disobedience against Residenzpflicht. The hearing will take place at the Memmingen Amtsgericht (Am Flüghafen 12b Memmingerberg) on Tuesday 10th March at 14.30 hours.
Am Information Table and Flyer action will take place at Ellwangen Marketplace on Monday 9th of March from 11 to 18 Hours
The Persecuted Refugees will be making a presentation in Wuppertal on 23.03.15
Refugee Activists on Civil Disobedience against imprisonment: "Residenzpflicht still means Apartheid" http://thevoiceforum.org/node/3864
Grassroots movement and resistance of refugee activists from Schwaebisch Gmuend against residenzpflicht imprisonment
The VOICE on The Refugee Demonstration against Residenzpflicht in Schwaebisch Gmünd - Campaign for Freedom and liberty http://thevoiceforum.org/node/3871
The VOICE Refugee Forum zur Flüchtlingsdemonstration gegen Residenzpflicht in Schwäbisch Gmünd http://thevoiceforum.org/node/3872
Refugee Activists on Civil Disobedience against imprisonment: "Residenzpflicht still means Apartheid"
http://thevoiceforum.org/node/3864
Erklärung der Flüchtlingsaktivisten aus Schwäbisch Gmünd in Baden-Württemberg
http://thevoiceforum.org/node/3877
Flüchtlinge Aktivisten befinden im zivilen Ungehorsam gegen Freiheitsberaubung: "Residenzpflicht bedeutet weiterhin Apartheid" http://thevoiceforum.org/node/3866
Beschwerdebrief an Ministerpräsident Winfried Kretschmann (Residenzpflichtverfolgung in BW) http://thevoiceforum.org/node/3861
Rassistischen Residenzpflichtgesetzes:
Solidaritätskundgebung für USMAN G. am Prozesstermin: 10.März 15 // 14:30Uhr
http://thevoiceforum.org/node/3873
Keywords from:
http://lastring.org
Oppression - situation in which people are systematically maltreated throw unfair and cruel means to prevent them from having basic opportunities,freedom and human dignity.
Resistance - fighting against something that is attacking you, or refusing
to accept to be attacked. Realizing and questioning the oppression situation is a beginning of resistance
More dates will be published on our websites of facebook account https://www.facebook.com/refugeesinitiative and thevoiceforum.org