You are here
Refugee Black Box Concert in Jena: System D Earned a reputation as the leading light of the Moroccan Reggae
Mon, 01/16/2017 - 00:31 -

voice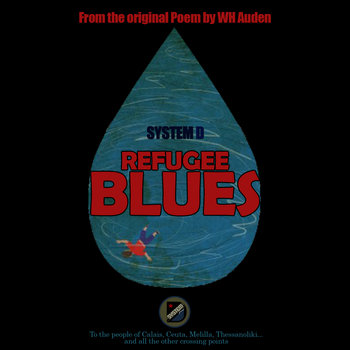 Found in 2008, originally from Morocco; System D Earned a reputation as the leading light of the Moroccan Reggae.
Combining Production, creation and live to spread the conscious message in the music far and wide, Roots and Dub music, System D a crossing borders musical expersience, challanging the opression, political situation, borders control. Reggae is not dead
https://stm-d.bandcamp.com/

Break the Deportation DNA Chain: "Refugee Black Box "
Conerts 28.01.2017: Saturday at 10pm in Cafe Wagner
Cultural Contributions and Solidarity Live Concerts in Café Wagner , Wagnergasse 26 07743 Jena . With:
– System D "a crossing borders musical experience, challenging the oppression, political situation, borders control: Reggae is not dead." (Leipzig) https://stm-d.bandcamp.com/
– Schwabinggrad Ballett together with the performance group Arrivati who call themselves "autonomous collective of refugees and People of Colour", from Hamburg.
http://www.spex.de/2016/09/03/schwabinggrad-ballett-arrivati-beyond-welc...
[Testimony] The symbol of the Refugee Black Box: Break the silence, break deportation by Regina Mauricia Kiwanuka
http://thevoiceforum.org/node/4320
Black Box Event! WE WILL RISE كُلّﻪ ما تَمامْ in Jena: Refugee Community Struggles Photo Exhibition on Freitag, 27.01.17 thevoiceforum.org/node/4318
Break the Deportation DNA Chain: "Refugee Black Box – The irrepressible voice and power of the afflicted" - Beyond the Court rooms!
http://thevoiceforum.org/node/4308
Break the Deportation DNA Chain: "Refugee Black Box – die ununterdrückbare Stimme und Kraft der Gequälten"- Jenseits der Gerichtssäle!
http://thevoiceforum.org/node/4313
Briser la chaîne ADN des expulsions : "Refugee Black Box - La voix irrépressible et le pouvoir des affligés" - Au-delà de la salle d'audience!
http://thevoiceforum.org/node/4312
Anuncio oficial: Romper la cadena de ADN de expulsión: "La Caja Negra de los Refugiados - la voz incontenible y la fuerza de los torturados" - Más allá de las salas de audiencia!
http://thevoiceforum.org/node/4319